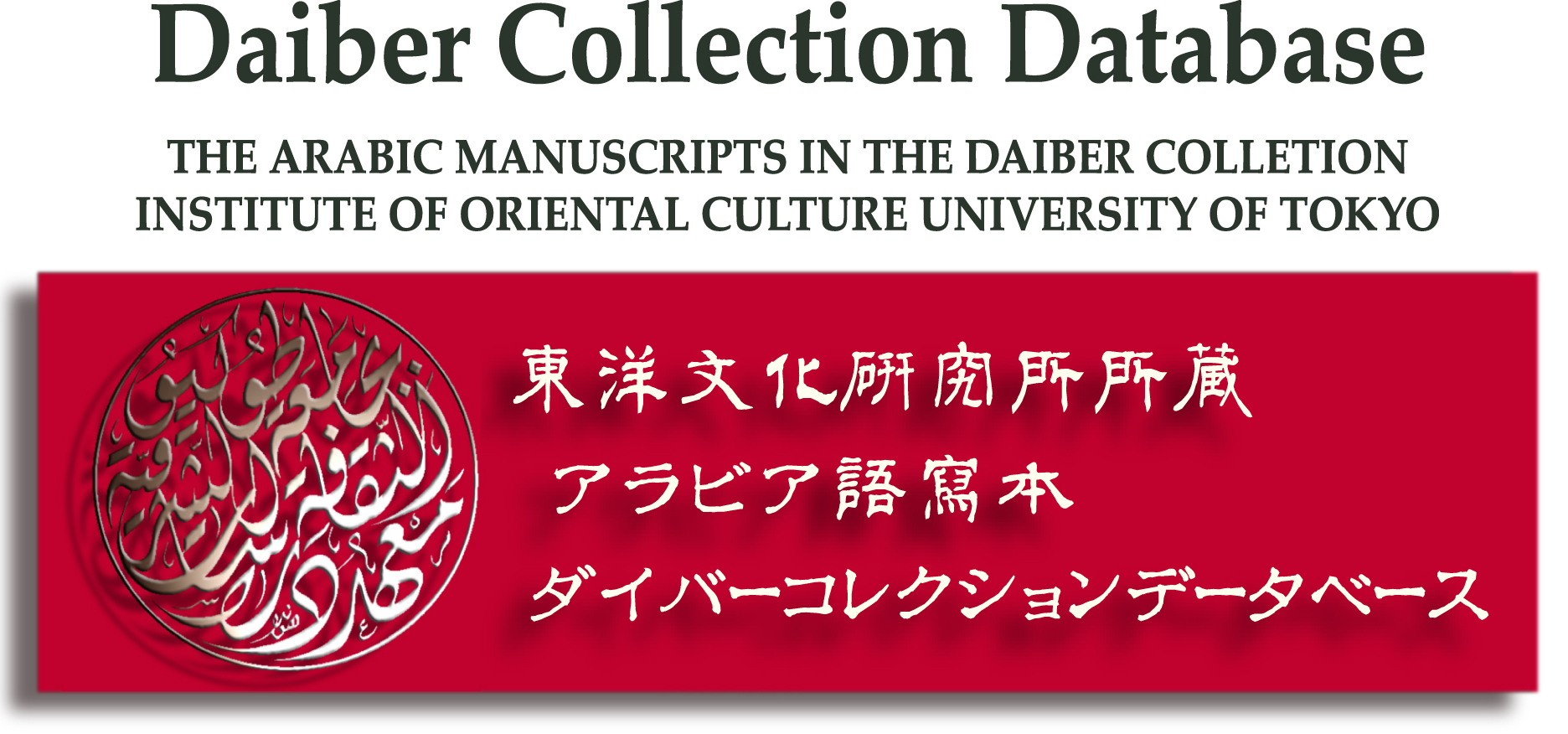 This collection is the corpus of manuscripts mainly focused on Arabic, collected by Dr. Hans Daiber, a professor of Islamic studies in Germany, over many years. Institute of Oriental Culture, University of Tokyo purchased the collection, its first part in 1986-1987 and its second part in 1994.
This collection is not massive nor contains manuscripts with extremely high artistic value, but it covers various disciplines of Islam and it is making out the bird's-eye view of traditional Islamic learning as a whole. As a part of the Digital Library of the Institute of Oriental Culture, University of Tokyo, here we open to the web all manuscripts of Daiber Collection, 367 of Part I and 153 of Part II. Each part contains approximately 850 and 500 texts, Narratives, Geography, Biography and History, Medical art, Algebra and Geometry, Astrology, Interpretation of dreams, and Alchemy. Each manuscript was collected from different places in the Muslim world. Most of them were transcribed in Turkey and Syria, and some are thought of as they were copied in Yemen, Morocco, Iran, Azerbaijan, Afghanistan, and India. The age of their transcriptions has not always been known, but manuscripts copied in 18th century are the most abundant while the earliest is in the middle of the 12th century A.D. and the most recent in the beginning of the 20th century A.D.
This Collection contains rich research materials over many fields that bring out the Muslim way of life directly or indirectly. Releasing the Collection in this way may enable more researchers to have access to these materials closer. We hope this Database contribute to the advancement of Islamic studies towards better understanding the richness and diversity of the culture.
Search the
Catalogue
Daiber Collection Database